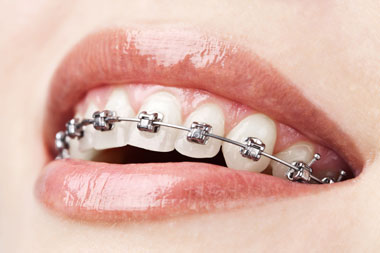 A metal bracket is bonded to each tooth. A flexible archwire is fed through each bracket. Made of nickel titanium or stainless steel, this wire moves the teeth and requires changing every four to eight weeks.
Fixed metal braces may require the use of part-time accessories:
Small rubber bands or ligatures to secure the archwire to the brackets.
Elastics to help move teeth in certain circumstances.
Teenagers will be able to choose from a colourful array of rubber bands and elastics.
Headgear at night is occasionally required to help hold or move teeth into the correct position.